I have spent over 4 decades working & training in various modalities so that I can consolidate my experiences into offerings and services that can cater to the individual needs of my clients.
As a multidimensional quantum energy facilitator and guide,
I offer a number of healing modalities and programs designed to unlock your fullest potential. This requires a commitment to deep dive into your past patterning and programming to release trauma, including ancestral and your own.
Allowing you to let go of what no longer serves you and transform limiting beliefs into aligned action to support a new reality aligned with your highest potential. I am committed to you having quantum transformations and breakthroughs, I hold a strong, safe, sacred, and professional container.
Quantum Inner Child Healing (QIC)
Session Time: 75-90 minutes
Cost Single Session: $250 USD
Cost Package: 2-4 sessions over a 2-3 month container $220.00 USD per session 
Quantum Inner Child Healing is a unique and powerful step-by-step process that will help you to safely release subconscious and conscious trauma stored in the pain body, retrieve soul fragments through a powerful soul retrieval process, and correct timelines.

Soul retrieval plays an important part in inner child work, it is through returning this fragment of the self that we are able to heal the trauma and return a vital essence that has been missing.
Unhealed trauma can keep us looping in patterns of behavior or trauma loops. Through QIC we will identify, release and heal unresolved childhood trauma. We look at the triggers and clear the root cause of the issue.
Typically root traumas happen between the ages of 0-10, and stem from core wounds such as betrayal, abandonment, persecution, separation, rejection, and abuse.
Often we will find ourselves attracting similar people and situations into our life, running the same limiting belief programs and we can't seem to move forward and out of the program. These patterns and programs are developed through childhood as coping mechanisms and serve to keep us safe from the pain of the trauma. Similar behaviors can be generated through ancestral programming, which will be addressed in the session.
When you work with me, I create a safe, supportive, compassionate, and protected space for you to heal long-held traumas, patterns of behavior, and old programs and belief systems, letting go and releasing what you don't need and calling and anchoring in what you truly desire and deserve.
You will leave with tools to further anchor in new and aligned ways of being.
My clients notice that after a session, what once triggered them just doesn't have the same emotional charge around it. There is a greater sense of life purpose and meaning and also a wonderful feeling of a part of themselves coming back home, a feeling of wholeness.
Also, the painful memory seems to have faded and is difficult to recall. This is because we are able to clear and heal that core wound, retrieve the soul fragment and rewrite and repair the timeline.
Lasting and real effects are likely to be noticed as they unfold in the coming weeks or months and sometimes the full effect is felt immediately.
Quantum & Multidimensional Energy Healing
Session Time: 75-90 minutes
Cost Single Session: $250 USD
Cost Package: 2-4 sessions over a 2-3 month container $220.00 USD per session
This session is potent and powerful as I work through clearing and healing your energy field, light-body, emotional, mental, and physical body of any lower energy, attachments, etc, sealing and repairing any parts of your light body and energy field where your energy can be siphoned and drained. Renewing and re-calibrating you at a deep cellular level.
I am able to see and clear where there are potential contracts or agreements you may have from the past, whether it is something from this lifetime or a past lifetime that has caused blocks and has impacted your ability to move forward.
This will assist and allow you to clear the way for what it is you are wanting to call in and create for your life. Removing abundance blocks, creating clarity and enabling greater embodiment of your true gifts and soul purpose. Anchoring in your gift templates and crystalline architecture into your light body.
In this miracle session, you can receive guidance from the Christed Beings, your Angels, Guides for what is in alignment with your higher self.
Soul Renewal, Alignment, and Transformation
Session Time: 120 – 150 minutes
Cost Single Session: $400.00
Cost Session Package: 2 -4 sessions over a 3 month container $333.00 per session.
These sessions combine both QIC and Quantum and Multidimensional Energy Healing. We not only clear out trauma from your past, there is also a clearing and healing of your energetic field and light body. You will have email and message support with me throughout all of the package containers.
Re-connecting you to your original blueprint and Divine Soul mission, activating your DNA and divine crystalline architecture in your light body. Restoring, renewing, and rebalancing at a deep cellular and soul level. As with all my sessions, I work only with what is in alignment with your souls higher self and most organic timeline and Gods will.
Session Time: 1 hour and 15 minutes
Cost: Single Session 1:1 $150.00
Group Sessions: price according to participants
Soma/somatic means body or of the body. Somatic Breathwork is a powerful breathwork process to assist you to release trauma, built-up stress, and anxiety that becomes trapped in the cells and muscles of the body and to move it out and release it using the breath. Sessions are held online over zoom and also in person. Small group sessions are also available.
This practice will help you to overcome what is blocking your way to accessing a greater version of yourself and allowing the restoration of emotional wellness and mental clarity at a deep cellular level. The power of the breath alone is potent. I will safely guide you through every step of the way, there will be verbal cues and a specially curated soundscape designed for you to connect into some of the deeper layers of yourself.
Deep Soul Healing & Transformation Program
Session Time: Approx 90 minutes 
Total of 10 Sessions 1:1 online
Total Program Cost: $2200.00 USD
Empower all areas of your life.
This is a 6 month container
Meeting online every 3 weeks
We will work together to create a schedule that is suitable and that you can commit to.
This is a commitment to yourself and your own journey and soul embodiment.
The container will include:
Quantum Inner Child Healing (QIC) sessions. 1 1/2 – 2 hours each session

Quantum fieldwork sessions 1 1/2 hours
Quantum Activations 1 1/2 hours
breathwork sessions approx 90 minutes each session
Monthly personalized guided meditations specifically for you
Life changing practices and tools tailored to your individual needs.
I will create a sovereign, sacred energetic architecture to hold our space throughout the duration of the container.
Message and email support
10 sessions in total
* Note: if more inner child work is necessary then we will swap out one of the other sessions.
In this container, you will experience a unique combination of many of the healing modalities I offer, specific to what is in alignment with your own healing journey.I will create and tailor to what is most needed which may mean sometimes it can be more beneficial to have extra QIC sessions for example.
This program will open up greater clarity, empower you with inner confidence and give you access to a greater version of yourself. Up-leveling your life in deeply transformational and uplifting ways.
Assisting you to overcome what is blocking your way, the limiting beliefs, programs and negative patterns, what the mind believes is impossible, and keeping you from activating your highest potential.
Some of the sessions you will experience through this program can include:
QIC (Quantum Inner Child Healing), Quantum Multidimensional Energy work, Somatic Breathwork, Ceremonial work.
In addition, you will receive embodiment tools and practices, guided meditations, short recorded breathwork practices for your daily use, grounding practices, regular check-in calls in-between sessions, plus unlimited email support. (I will reply within 24 hours)
What you can receive and experience from the sessions:
* As we dive deeper beyond the multilayered versions of ourselves we find core templates and blueprints of our souls' expression and flow. We will uncover and reactivate these to what is in alignment with your higher self.
* It will be a time to anchor into your full potential and weave new intentions to create and co-create, let go of old patterns and programming that no longer serve you, clear energetic blocks. recognize and change behaviors and old ways that keep you in looping cycles.
* Release any survival patterns to dive deep beneath the surface of any limiting beliefs, ancestral imprinting and programming passed through the DNA and clear this at a deep cellular level. Clear any energetic overlays and imprints that once protected you in old timelines, and perform timeline repairs and soul retrievals.
* Clear and release stress, tension, and anxiety that is stored in the cellular structure of your physical, mental, emotional, and spiritual body, allowing you to become clear and repattern your neural pathways.
* Activating crystalline templates and union codes. Aligning to your deepest truth. recalibrating and clearing the light body architecture, become clear on purpose/mission/what it is that you want to create.
This is a safe space where you can be seen, heard, understood, supported and empowered.
Throughout this container, I am committed to you having big transformations and quantum shifts in many areas of your life that you are seeking. I believe that everyone can experience this.
This WILL require a deep commitment from yourself to yourself to do the work and practices suggested. It is through our daily aligned actions and embodiment that real lasting change happens.
Celestial Mapping and Gift Activation
Session Time: 1 hour and 30 minutes
Cost: Single session 1:1 $250.00
This is a fun session, I look into your field to identify your Celestial and Earthly timeline. I will be able to discover your gifts and templates associated to those bloodlines and reactivate them within you. Enabling you to use your soul gifts and superpowers in alignment with your mission and purpose.
Each person has 9 core gifts that can be activated through your DNA. Typically 3 – 4 gifts can be activated per session.
Energetic Crystalline Womb Clearing & Healing (Women only)
Session Time: 1 hour and 30 minutes
Cost: Single Session 1:1 $250.00
2 sessions 1:1 $400.00
This is a highly sacred process and is designed to restore your sacred feminine essence back to your body. To release and clear the DNA from past partners, plus anywhere there are cords, implants, or attachments keeping you connected energetically to someone in ways that are potentially siphoning your energy. This is a 2 part process and is advisable to have 2 – 3 weeks between sessions.
It can assist to release any sexual trauma and burn dark energy away. Recalibrating and renewing your womb space at a deep cellular level allowing you to claim your sacred sovereignty and honoring yourself as the Divine Woman/ feminine/Creatrix that you are and your body as your sacred Divine Temple.
Anchoring in and activating the Holy Crystalline Rose template in your womb will reconnect you to your sacred creational process and align your womb to your heart to your throat and to your crown center.
Allowing your unique creational codex to flow into whatever projects you are wanting to birth and being magnetic to what you are wanting to call in that is in alignment with your highest good.
It can open the flow of abundance, align your union or allow for a deeper connection with your already partner as well as a deeper connection with yourself and your feminine essence.
Disclaimer:
Quantum Inner Child Healing, Quantum & Multidimensional Energy Healing, Somatic Breathwork, Deep Soul renewal, Alignment & Transformation, and Soul Healing & Transformation, Energetic Crystalline Womb Clearing & Healing, and Celestial Mapping & Gift Activation are not a substitute for medical or psychological diagnosis and treatment, and no medical claims are made regarding these healings and sessions.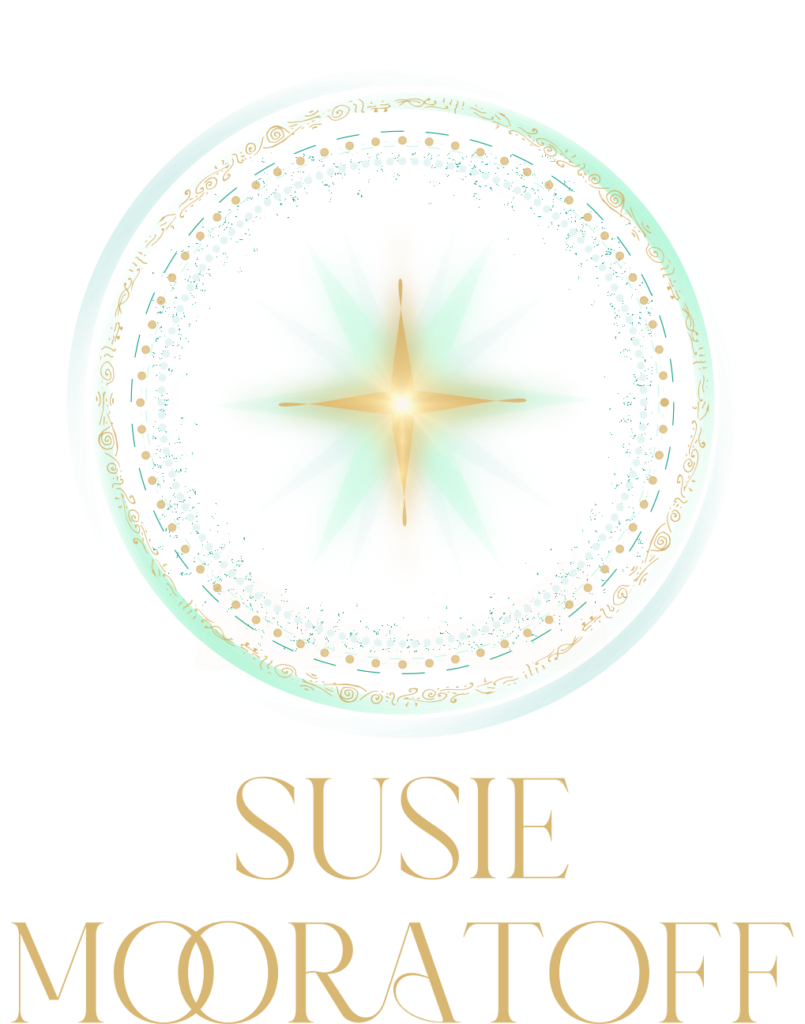 © 2023 Susie Mooratoff | Made With Love By Cosmic Creative Studio